Clark University to receive $12 million Department of Labor grant Partners with Public Consulting Group for Tech Quest to provide technology apprenticeships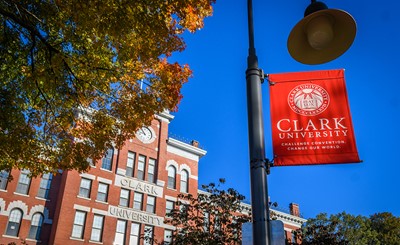 Clark University has been awarded a $12 million apprenticeship grant from the Department of Labor, Employment, and Training Administration to provide business technology training nationwide to people struggling with unemployment and underemployment, and to those who seek to master relevant technology skills in an evolving workplace.
Clark is the only academic institution in Massachusetts involved in this effort. This represents Clark's largest single federal grant ever awarded.
The "Scaling Apprenticeships Through Sector-Based Strategies" grant proposal was written in close partnership with Public Consulting Group, Inc. (PCG), of Boston, Mass., and will be implemented through a consortium of institutions of higher education, technology industry partners, and workforce boards across the nation. A Tech Quest Apprenticeship Expansion Consortium (TQ Consortium) has been developed to promote and implement apprenticeships.
"This grant serves as a platform to change the way America approaches the pathway from education to the workplace," said Clark President David P. Angel. "We need to bring the earn-and-learn model of apprenticeships into careers in business technologies coast to coast. Together with our eight state coalition of partners in higher education, workforce development and industry, we're going to redefine career awareness, career readiness, and lifelong learning to improve the competitiveness of our workforce."
"We know this opportunity is larger than meeting the specific goals of the grant. It's about advancing higher education and workforce development public policy toward apprenticeships as a model of teaching, learning, and career achievement simultaneously," said Bill Mosakowski, founder and president of Public Consulting Group, a national firm in management consulting and operations improvement.
"Using Clark's intellectual leadership and PCG's logistic and administrative capacity, this grant will allow both organizations to build and enhance funded research capacity while highlighting our dedication to the economic development of our broader national community," President Angel said.
The Tech Quest program will provide IT and IT-related apprenticeships to a minimum of 5,000 individuals over the next four years in eight states: Florida; Massachusetts; California; Nevada; Pennsylvania; Oregon; Texas; and Missouri. Eligible participants include unemployed, underemployed, and incumbent workers. Through the apprenticeship programs, these workers will be matched with employers and receive on-the-job training and academic training, gaining employment as they improve their skills and move up the career ladder.
A minimum of five new technology-focused apprenticeship programs will be established to help expand IT-related apprenticeships into new service areas. These programs include traditional and high-demand emerging IT-related occupations.
According to Nicholas Haber, Director, STEM & CTE for Certiport - A Pearson VUE company, "The grant is a great opportunity to expand apprenticeships in high demand business occupations such as business analysts, data scientists, business intelligence, project management, business management, and others. Apprentices will be able earn Certiport's new industry recognized Entrepreneurship and Small Business Certification to validate the skills and training they receive in their apprenticeships along with many other technology certifications."
Apprenticeship services will be provided through an initial consortium of six universities, 13 industry partners, 13 workforce boards, and the National Association of Workforce Boards. The Deshpande Network, associated with the MIT Deshpande Center, and the nonprofit Entrepreneurship for All will offer additional entrepreneurial incubator and accelerator services and training.
"The span and scope of this grant will allow us to offer our training programs nationally," said Angela Pate, PCG manager, business development. "The consortium of business partners, colleges and workforce boards will collectively focus on standardizing programs that can be implemented anywhere, so we can lift even more workers into positions with higher pay and stronger futures."
PCG will provide administrative, programmatic, and partner coordination to support Clark as they work to achieve the grant outcomes. PCG will also serve as the national sponsor and workforce intermediary for the project, working with the Department of Labor Office of Apprenticeship and private Standards Recognition Entities (SRE) to register new apprenticeable occupations and training standards.
The Department of Labor has awarded a total of $183.8 million in Scaling Apprenticeship Through Sector-Based Strategies grants to private-public apprenticeship partnerships in information technology, advanced manufacturing, and healthcare. These grants support the training of more than 85,000 apprentices in new or expanded apprenticeship programs. A full list of the 23 academic institutions and consortia who received grants with their private-sector partners can be found online.
Consortium partners:
Institutions of Higher Education: Clark University (Massachusetts), University of California-Merced (California), Rancho Santiago Community College (California), University of Florida (Florida), Santa Fe Community College (Florida), Florida Vocational Institute (Florida)
Workforce Development Boards: Contra Costa County Workforce Development Board (California), Nova Workforce Development (California), San Bernardino Workforce Development Board (California), San Diego Workforce Partnership (California), CareerSource North Central Florida (Florida), Masshire Central Region Workforce Board (Massachusetts), Boston Private Industry Council (Massachusetts), Kansas City & Vicinity Workforce Development Board (Missouri), St. Louis Agency on Training and Employment (Missouri), Las Vegas Workforce Connections (Nevada), Portland Metro Workforce Development Board (Oregon), Bucks County Workforce Development Board (Pennsylvania), Workforce Solutions Borderplex (Texas)
The Deshpande Network and Entrepreneurship For All
National Association of Workforce Boards
This website post is fully supported by the Employment and Training Administration of the U.S. Department of Labor as part of an award totaling $11,999,771. Equal opportunity program.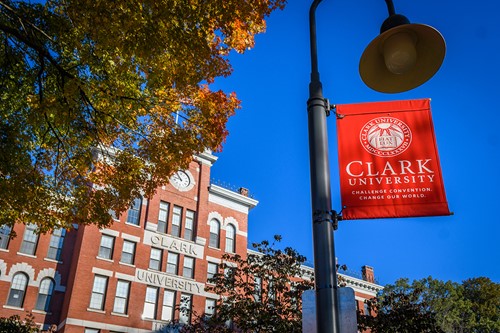 Photo credit: Clark University