Q&A with PCG shareholder Kathy Fallon: Sharing insight on The Boston Club and women in leadership
On November 7th, a group of women from PCG attended The Boston Club's (TBC's) Corporate Salute fundraising breakfast on the topic of "Focusing Forward: ReBuilding Trust in Corporate Leadership." A PCG-sponsored organization, TBC is a community of executives and professionals invested in elevating women to leadership positions across all industries, guided by the belief that women's leadership has a positive effect on business results, organizational success, and our communities.
In a fireside chat during the breakfast moderated by Boston Globe Columnist and Associate Editor Shirley Leung, Dame Amelia Fawcett—appointed as a Dame Commander of the British Empire (DBE) and Commander of the Royal Victorian Order (CVO) in recognition of her services to the financial services industry—led a conversation about governance, diversity, and the next financial crisis.
Kathy Fallon is a member of TBC and has worked in government and government consulting for nearly 30 years. She has been at PCG for over 20 years, is a shareholder of the firm, and currently oversees the Human Services practice. Prior to joining PCG, Kathy worked for the Commonwealth of Massachusetts for eight years in both the legislature and Executive Office of Administration and Finance, managing state budget and finance. She has a Master of Public Administration (MPA) from the University of Massachusetts, where she instructed graduate-level MPA students in the art and science of public budget and finance for 18 years. She also serves on the Board of trustees of Hartwick college.
To help the PCG community learn more about TBC and how its mission ties back to the values of our firm, Director of PCG Cares Pam Knight recently sat down with Kathy for a PCG Cares Q&A. 
What is your involvement with TBC and how has it benefited you personally and/or professionally?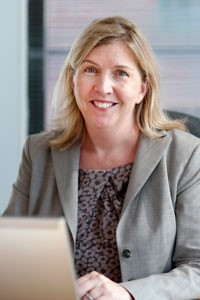 I learned of TBC a few years ago, and decided to join to meet other successful women and form a network of women who operate in majority male environments. I was seeking a forum for discussing issues and sharing experiences. I have met a ton of women who were early pioneers and some new economy leaders. TBC is a great place to develop a broader and more diverse network in the city.
TBC's 2019 Measuring Success report noted there are still a number of companies that do not have women in their executive suites, and that "what gets measured, gets done."
As a female leader and Practice Area Director of Human Services at PCG, why do you feel it is important for organizations to have female senior leadership and a pipeline of female leaders?

While I first and foremost appreciate a diverse perspective and believe it offers tremendous advantage, it is also a fact that women are graduating from higher education at ever increasing rates relative to males. For PCG to thrive in the future, we must have a pipeline of talented women as well as men. Also, our government clients are more equitable in gender. It is important for state leaders to see women as well as men at the table.
How does PCG measure progress in this area?
 
We are conscious about having a gender balance and work on creating an environment where that is possible. That is something I try to instill in the Human Services practice area as part of my role.
At the TBC Corporate Salute fundraising breakfast, keynote speaker Dame Amelia Fawcett discussed the importance of people in organizational leadership roles providing mentorship to women in their organization.
What can we all do to promote and foster mentorship at PCG?
 
First, let me just say that I found her to be an amazing speaker; one of the best I have heard. Her story resonates with me. I have had many great mentors, from Governor Charlie Baker to former PCG colleagues, who believed in me and helped guide my career. Were it not for their support, I am not sure I would be where I am today. I hope to pay that forward. I believe that supervisors and managers should see this opportunity as a part of their job.
What conversation topics do you see as valuable for mentor/mentee discussions to promote career growth at PCG?
 
It is important to have a mentor who you can ask honest questions of and who can provide advice and counsel on how to deal with difficult situations and how to deal with awkward inter-colleague dilemmas, for example. A good mentor can also help you navigate your career beyond PCG. It is a small world and we cross paths in unforeseen ways on our journey. Everyone you help now may turn around and help you in a decade.  
What recommendations do you have for female employees seeking leadership opportunities both at PCG and in their communities?
I do believe as Dame Amelia Fawcett said during her session, you have to jump in, speak up, and work hard. You have to be open to opportunities that may lead you to places you did not expect. Being a people person helps! Don't be afraid to talk about problems you experience, but develop a "thick skin" as well. As Ms. Fawcett said, you don't have to be a man to succeed in the world, and humor and grace go a long way in navigating the world of work.