PCG to Study Public Safety Call Answering and Processing Times Nationwide for the Fire Protection Research Foundation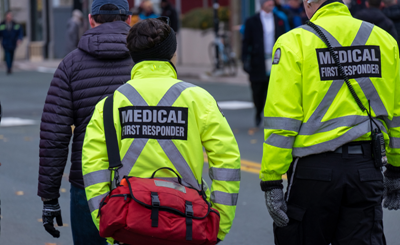 Findings will be used to determine validity of current time standards for 9-1-1 calls in response to fire and EMS events
[Boston, Massachusetts] July 7, 2022 – Public Consulting Group (PCG) is pleased to announce its selection by the Fire Protection Research Foundation (FPRF), the National Fire Protection Association's (NFPA) research affiliate, to study and analyze public safety call answering and event processing times across the nation. FPRF awarded the bid to PCG in response to a Request for Proposals (RFP), "An Analysis of Public Safety Call Answering and Event Processing Times," issued in December 2021.
The goal of this project is to validate the appropriateness of fire and emergency medical services (EMS) 9-1-1 call answering and processing times as stated in NFPA 1225, Standards for Emergency Services Communications, by collecting, analyzing, and summarizing data throughout the United States. Data collection will exclude law enforcement calls to focus solely on fire and EMS events.
This data will be retrieved voluntarily from thousands of Public Safety Answering Points (PSAPs) and dispatch centers across the country using data collection questionnaires. Collected data will be analyzed to see how PSAPs in different environments across the U.S. (e.g., urban, rural, etc.) handle call answering and processing times. Prior to the data collection phase, PCG conducted an extensive literature review to identify existing requirements for national call answering standards, explore previous research completed on this topic, and examine any industry-recognized call answering and processing time standards.
"PCG is honored to have been selected for this important study on 9-1-1 call answering and call processing times for fire and EMS organizations," said retired Chief Ken Riddle, PCG's Senior Advisor for the Public Safety Consulting Services team. "NFPA 1225-time standards were not established on evidence-based data. This study will establish what the actual call answering, and processing times are in the United States and will be considered by the NFPA 1225 Technical Committee when revising the Standard."
While the NFPA 1225 Standard contains call time provisions, the Authority Having Jurisdictions (AHJs) have questioned these time standards; this project will determine if national public safety call time standards are realistic, or if they need to be adjusted. Following the literature review, data collection, and statistical analysis of public safety call answering and event processing time data, PCG's team will compile and present a final report of the findings to the FPRF and NFPA 1225 Technical Committee.
About Public Consulting Group
Public Consulting Group LLC (PCG) is a leading public sector solutions implementation and operations improvement firm that partners with health, education, and human services agencies to improve lives. Founded in 1986 and headquartered in Boston, Massachusetts, PCG employs over 2,500 professionals in more than 40 offices worldwide—all committed to delivering solutions that change lives for the better. The firm has extensive experience in all 50 states, clients in six Canadian provinces, and a growing practice in Europe. PCG offers clients a multidisciplinary approach to meet challenges, pursue opportunities, and serve constituents across the public sector. To learn more, visit www.publicconsultinggroup.com.
The Fire Protection Research Foundation: 40 Years of Advancing Safety
The Fire Protection Research Foundation was established in 1982 in response to a growing need for research that better informed NFPA's expanding body of codes and standards. The ensure the research remained independent, the Foundation was formed as a separate 501(c)(3) organization. The Research Foundation's mission is to plan, manage, and communicate research in support of the NFPA mission. The NFPA's mission is to help save lives and reduce loss with information, knowledge, and passion.
Media Contact
Alyssa Brown, Director of Corporate Communications and Public Relations
(617) 488-9084
media@pcgus.com