PCG's Manager Tony Ong Presented at November Webinar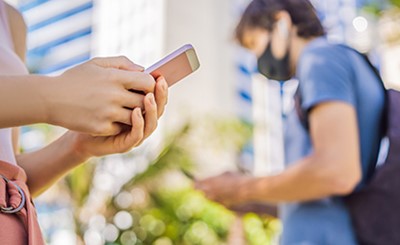 Digital Solutions to Improve Outcomes for HHS Agencies During the COVID-19 Pandemic
The COVID-19 pandemic has changed the way public sector organizations in the United States need to function, as they have had to transition to remote platforms to stay safe while, simultaneously, the needs of the communities they serve have increased significantly. According to the Pew Research Center in April 2020, "overall, 43% of U.S. adults now say that they or someone in their household has lost a job or taken a cut in pay due to the outbreak…among lower-income adults, […] 52% say they or someone in their household has experienced this type of job upheaval."1
In addition to these statistical increases, we are witnessing a significantly higher number of households seeking assistance from U.S. Department of Health & Human Services programs during the COVID-19 pandemic, such as Temporary Assistance for Needy Families (TANF) and the Supplemental Nutrition Assistance Program (SNAP).2
As state and local health and human services (HHS) agencies have been called to find new ways to connect with their clients and customers, the process of digital transformation is taking place at a rapid pace.
Tony Ong, Human Services Manager, Public Consulting Group (PCG), joined other experts on November 19 for a related webinar sponsored by Salesforce entitled:


Modernizing HHS for Better Outcomes: Speed Services Delivery During a Crisis with Cloud-Based, Constituent-Centric Apps

Ninety participants attended this timely, informative, live webinar, and 189 participants registered and received access to a recording of it.
With over 21 years of experience at PCG, Tony and the Human Services Team help state, county, and municipal human services agencies respond to change, enhance operations, improve access to services, optimize processes and compliance, and achieve their performance goals.
During this webinar, Tony discussed the challenges HHS agencies face during the COVID-19 pandemic, as their representatives need to transport equipment and resources home to work remotely and create new digital processes.
Prior to the pandemic, it was common practice across all HHS domains (government, private, etc.) for most service administration to take place in person during regular business hours. Now, it is essential for agencies to provide online access for their representatives, clients, and customers online. During this time of digital transformation, web-based interactions are a new normal. When it is safe for individuals to meet in person again, it is expected that 40 to 50 percent of HHS representatives will most likely continue to work at home. There is great remote-work success due to advanced digital tools and resources; logistical convenience; more efficient agency operations; and the decrease in a physical location footprint. Tony said, "attendance, productivity, morale, and political support have never been higher. Processes advanced 20 years in a few months." Agencies are also rethinking the formats of hands-on workshops, one-on-one coaching, and self-service resources.
As Tony and the Human Services Team create digital transformation solutions for HHS agencies during the COVID-19 pandemic, one particular issue at the forefront of their strategy is digital inequity, which can hinder remote access sustainability. For example, universal access to high-speed internet is a significant barrier. This can be common for customers/end-users in rural areas, but it can also be a problem in urban areas with high foreclosure rates or other market-driven conditions. Tony and the team are also creating investment solutions that involve both HHS and education agencies providing laptops to clients to enable participants to find employment; work from home; receive education remotely; and achieve economic independence.
Cloud-based, constituent-centric apps are another solution that can be used during agencies' digital transformation to make connecting with customers more efficient and convenient. These apps can include maps for analysis, routing of driving directions for representatives, and scheduling of travel time. There are also assessment apps, social determinant barrier apps, and apps that visually display data.
As HHS agencies transition from a legacy system to cloud-based options, it is essential for them to plan and consider the following business environment components comprehensively:
Policies
Programs
Legal aspects
Processes
Resources
Funding
Procurement
Federal approvals
Organizational change
Technology
 
According to Tony, projects of this magnitude and importance need to be vetted for feasibility to help ensure that processes are aligned with organizational missions, goals, and business objectives. These other elements also need to be considered: how tax-payer dollars are being spent; return on capital investments; the efficiency of allocated resources; market insights; peer knowledge from other states and localities; and buy-in from all stakeholders.
As HHS agencies navigate digital transformation during the COVID-19 pandemic, PCG has seasoned professionals ready to support agencies with solutions that matter. Founded in 1986, PCG helps agencies design programs, services, and systems; increase program revenue; cut costs; and improve regulatory compliance with state and federal regulations. To learn more, visit:  http://www.publicconsultinggroup.com/humanservices/.
_______________________________
1 Kim Parker, Juliana Menasce Horowitz and Anna Brown, "About Half of Lower-Income Americans Report Household Job or Wage Loss Due to COVID-19," Pew Research Center, April 21, 2020, https://www.pewsocialtrends.org/2020/04/21/about-half-of-lower-income-americans-report-household-job-or-wage-loss-due-to-covid-19/
2 No author, "HHS.gov," U.S. Department of Health & Human Services, accessed November 24, 2020, https://www.hhs.gov/