Enjoying spring with PCG Cares in April
With the first signs of spring in the air, PCG Cares teams in Nashville, Chicago, Indianapolis, and Phoenix were busy getting involved in their communities both indoors and outdoors this April. Read on for a selection of our volunteer experiences for the month.
Nashville's PCG Cares team volunteered in early April by gardening with The Nashville Food Project, an organization that grows organic food in community gardens throughout Nashville in hopes of providing a healthy, sustainable system of food security for the most vulnerable residents of the city. The group mulched and cleaned areas where the farmers will wash and package the vegetables they have grown before they take them to different events and markets around the city. The team also weeded the annual herb garden and tilled flower beds that will soon be planted. These PCGers are very grateful to have had the chance to work with the Nashville Food Project and will be returning throughout the summer to continue their efforts!
Nashville staff spent time volunteering in the community gardens of The Nashville Food Project to help alleviate hunger in the city.
Just as spring marks the beginning of warmer weather, it also marks the end of the school year. For City Year AmeriCorps members completing their year of service, this is a time when they'll start thinking about what's next for their careers. To assist with the transition, members of PCG Cares from Chicago and Indianapolis sponsored a career preparation day for City Year Chicago in mid-April. Staff from both offices provided tips and insight to City Year participants on how to navigate from the classroom to the education consulting sector. PCG Cares also arranged for presentations by the FBI, WLS (the local ABC affiliate), and other media representatives.
Members of the Chicago and Indianapolis offices sponsored a career preparation day for City Year Chicago to help AmeriCorps members learn about education consulting.
Staff from the Phoenix downtown office frequently volunteer at The Salvation Army's Laura Danieli Senior Center and love helping the aging community. In late April, the group volunteered to serve Easter lunch to the residents. This involved helping to set the table, providing beverage service, serving food, clearing the table, and washing the dishes. The team had so much fun mingling with the residents and Easter Bunny!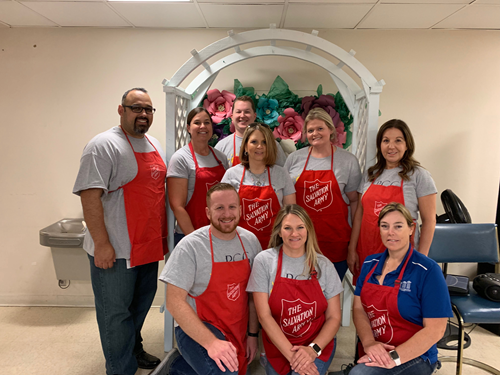 The Phoenix team served Easter lunch at The Salvation Army's Laura Danieli Senior Center in support of the aging community.