Broward County Public Schools Helps Shine the Spotlight on PCG's Online Learning Program Courageous Conversations about Race with Glenn Singleton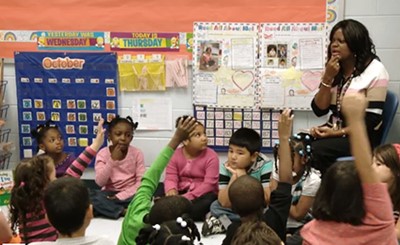 In January of 2018, Broward County Public Schools (BCPS), the sixth largest and most diverse district in the country, partnered with PCG to offer an equity-focused professional learning program featuring the online course Courageous Conversations about Race with Glenn Singleton. Courageous Conversations about Race provides a framework, tools and strategies for productive interracial dialogue about race and directly supports improvements in culture and climate. The program started with 300 Equity Liaisons and since then has expanded to include more than 1,200 teachers, district administrators, school leaders and other staff. Fast forward to the 2020-2021 school year: our partnership with BCPS continues as does the equity-focused work being done to build the district's capacity for supporting culturally and linguistically responsive schools.
We are thrilled to report that the program's success was recently touted by BCPS Superintendent Robert Runcie in an article he authored for eSchoolNews titled "5 tips to help districts bridge the equity divide." In the article, Superintendent Runcie states in part: 
"The coronavirus pandemic has exposed historic equity gaps that have long plagued our schools and society… Even in the midst of the pandemic, the foundational framework that successfully continues to bridge the equity divide at BCPS is our work with Public Consulting Group's (PCG) Courageous Conversations about Race online program…Through workshops, training, and building our teachers to serve as Equity Liaisons to champion the work in their own schools, we got necessarily uncomfortable. We challenged ourselves to uncover our own implicit biases in service to our students. We continued to host these critical conversations online when COVID hit even though our school buildings were closed. I've heard time and time again from our teachers and staff that anyone who works with students needs this training."
Superintendent Runcie goes on to recommend five steps district leaders should take to advance their diversity initiatives, including:


Letting data speak to academic gaps and other inequalities
Looking inwardly at implicit biases
Analyzing how leadership practices impact equity
Establishing a dedicated equity department
Engaging external community stakeholders

The efforts underway at BCPS to build educators' cultural competence and PCG's Courageous Conversations course were also the focus of a recent District Administration magazine article. Distributed monthly in print and online, each issue of District Administration reaches more than 180,000 K-12 decision-makers. Be sure to check out "How one of nation's biggest districts talks about race and racism" from the October issue of District Administration.
We are honored to support Superintendent Runcie and BCPS in their ongoing efforts to promote equity and the success of all students throughout the district. The partnership with BCPS reflects our commitment to delivering solutions that matter to our clients and the communities they serve. Find more information about the Courageous Conversations about Race online course as well as our partnership with BCPS here.