Announcing Our FY23 EPIC Awards Winner for Passion!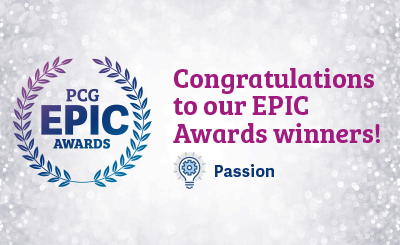 PCG's quarterly employee recognition program, aptly-named the EPIC Awards, is designed to help bring the firm's four core tenets—Entrepreneurial Spirit, Passion, Impact, and Community—to life in a tangible way. Today, we are thrilled to announce that Pamela ("Pam") Knight has been selected as PCG's newest EPIC Awards winner for the endless Passion she has for PCG, the PCG Cares program, our many nonprofit partners throughout the US and worldwide, the communities we serve alongside our partners and clients, and – last but never least – our employees.
For the first time since the EPIC Awards program launched in July 2019, the winner was nominated by a member of the Council and then separately endorsed by a different member of the Council. Her nomination, which was one of 10 exceptional candidates (!!) submitted this quarter—underscoring the passion that is a core tenet of our firm—received the majority of votes. This outcome is a testament to the positive energy and passion Pam continues to bring to work every day after more than 27 years with PCG.
Passionate about the Employee Experience
When Pam joined PCG in 1995, she was one of approximately 150 employees spread across the firm's then three offices. Today, nearly 2,000 employees comprise PCG's global workforce and yet, despite this growth, the impact of Pam's passion for our mission and our people has never been more apparent, particularly during the tenuous times brought on by COVID concerns. For the past two years (and for much longer, if we're being honest), Pam has built creative strategies to get employees involved in both virtual and in-person community events. Thanks to her tireless efforts, PCG saw a 54 percent increase in employee volunteer hours in fiscal year (FY) 2022 over FY 2021. To date in FY 2023, Pam has been promoting many in-person volunteer opportunities as well as PCG's new partnerships with BUILD and National Cares Mentoring Movement.* As a result, employees have already billed 550 volunteer hours through the PCG Cares program—a corporate program which officially launched in 2017 under Pam's direction and leadership. Pam also serves on the PCG Employee Emergency Fund task team for which she was instrumental in the program design and continues to play a key role in selecting eligibility.
Commenting on Pam's EPIC Awards nomination, PCG's Chief Financial Officer (CFO) said:
"Pam epitomizes what it means to be passionate about your job. She is so enthusiastic about the PCG Cares' mission and what it means to both our employees and the communities that we support. She has the presence and personality to get people enthused and excited. There is no doubt that the pandemic and now the hybrid working arrangements have made her job somewhat more challenging, but she is constantly looking for ways to overcome that hurdle. Within six months of me joining PCG, it was not difficult for me to engage her and get her to meet with the leadership of one of the non-profits that I am extremely involved with. Then, she agreed to attend an event, and was so energized that she helped organize a PCG lunch-and-learn (in person and virtual) for people to find out more, resulting in a number of people committing to volunteer. She also pitched the organization to the CEO and was able to secure some PCG funding. I couldn't have asked for a better person to partner with on this cause."
Mary Byrd, an Operations Analyst on the University Instructors (UI) team, endorsed Pam's nomination stating:
"The passion Pam brings to her position cannot be duplicated. She is a one woman show that proves to an organization of thousands how much she and PCG cares for each employee.  She is committed to showing each of us appreciation and genuine interest in who we are.  I admire the spirit she brings in any gathering, whether it be in-person or virtual, she is always able to find the authenticity in others and leaves each event with more friends than she began with. You can't help but feel motivated to want to help others in her presence. I honestly cannot think of a better person for the work that she does and a better person that brings great passion to her role. Always there with a warm smile and a hug, she is a true representation of PCG and how PCG Cares!"  
Echoing these sentiments, Senior Marketing Communications Specialist Laura Melanson said:
"PCG Cares is one of the most (if not the most) important contributors to the overall employee experience at PCG and that program wouldn't exist as it does today without Pam. Her passion and enthusiasm for community have had an immeasurable impact on the firm and its employees. On top of that, she's incredibly genuine, kind, and welcoming to everyone she meets. She does so much behind the scenes to support and uplift people, inside and outside the firm; I can't think of anyone more deserving of this award. PCG would not be the same without Pam."


Enthusiastic about Authentic Engagement
In light of the pandemic, PCG's longstanding tradition of year-end celebrations have been a challenge since 2020. Pam again rose to the occasion when she personally planned and hosted regional virtual celebrations for employees to commemorate the year for PCG. She also spearheaded planning for successful firmwide virtual holiday and year-end celebrations during the pandemic. As these events were well received by employees (and in many cases, their families), Pam will continue to be involved in planning firmwide engagements, including PCG's holiday and year-end celebrations to be held virtually in June and December moving forward. Also, during the pandemic, Pam regularly hosted virtual happy hours, trivia challenges, and other events to give employees opportunities to engage and interact with others when most were isolated in remote work environments. These events were always well regarded and provided energy and opportunity for PCG employees that they would likely not have had without Pam's involvement.
PCG's Director of Diversity and Inclusion, Sophia Thwaites, also endorsed Pam's nomination:
"Pam Knight is the perfect recipient of the Passion EPIC award. She has served PCG since its early years and is committed to the firm's success and employee well-being. Pam has a particular passion for employee engagement and community outreach which is best reflected in her work leading PCG Cares and planning countless PCG events over many years. Her enthusiasm and dynamic personality encourages others to get involved too."
In addition to leading PCG Cares, Pam stepped in to oversee PCG's MBA program which is offered through Clark University. She built internal processes and established protocols to cultivate the next Clark cohort and has managed the program brilliantly. She strengthened PCG's existing relationship with Clark, enhanced course selection, and managed each participant's involvement. 
Endorsing Pam's EPIC Awards nomination a PCG Principal said:
"Pam joined PCG in the early days of the Charlotte Office. She came in with a willingness to work very hard, be a team player, and make sure our clients expectations were exceeded. She brings a quick mind, strong back, and a great sense of humor to every challenge. Now almost three decades later, she's still bringing her best self to PCG Cares and helping make sure the "why" of PCG is never forgotten. Thank you, Pam!"
Please join us in congratulating Pam for this well-deserved recognition of her passionate approach to delivering solutions that matter to the PCG community and those we serve alongside our partners and clients.
​