Taking the initiative with PCG Cares in May
To keep up the great momentum so far this year, PCG Cares teams in Asheville, Albany, Princeton, and Harrisburg took action in their local communities by helping those in need this May. Read on for a selection of our volunteer involvement for the month.
PCG Cares Asheville joined the American Red Cross on Friday May 3, 2019, for Sound the Alarm – a home fire safety and smoke alarm installation event. The team worked alongside local fire departments and other community groups, canvassing at-risk neighborhoods to install free smoke alarms, replace batteries in existing alarms, and educate families about fire prevention and safety.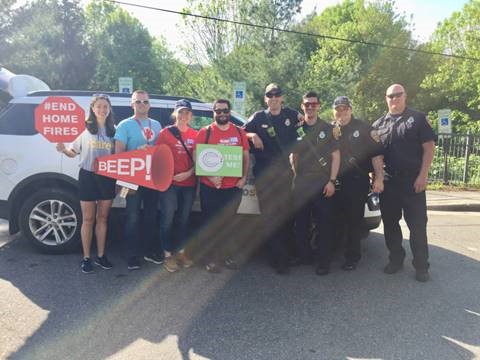 Asheville staff spent time volunteering with American Red Cross in different neighborhoods to install fire safety equipment, as well as provide tips for fire prevention.
PCG Cares Albany took some time on May 9th to work with the Homeless and Travelers Aid Society on their Feed and Read Program. This program provides critical support to hungry children in the Albany area to reduce absenteeism and keep developing children in school and on track.      
The Albany team volunteered at Homeless and Travelers Aid Society by packaging food to help children in the Albany area.
On May 22nd, PCG Cares in Princeton volunteered at Trenton Area Soup Kitchen (TASK). TASK feeds those that are hungry in the Trenton area and offers programs to encourage self-sufficiency and improve the quality of life of its patrons. TASK staff serve more than 3,500 meals at their primary facility and satellite locations in South Trenton, West Trenton, Hamilton, Hightstown, and Princeton.
Princeton staff spent time in the kitchen preparing food for those in attendance at the Trenton Area Soup Kitchen.
In late May, the Harrisburg office completed a Juice Box drive to benefit the Logos Academy Harrisburg at New City School. The New City School currently serves preschool, pre-K, and kindergarten students and will be expanding to first grade next year. PCG staff donated almost 2,000 juice boxes!! The students were excited to see the donations when delivered.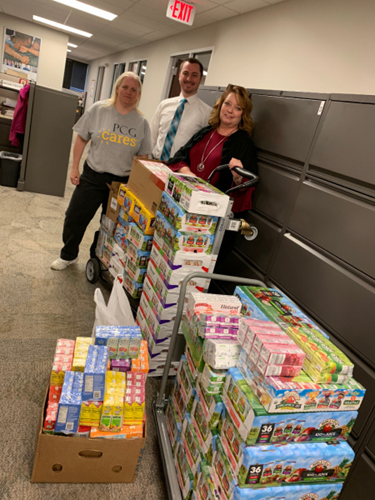 The Harrisburg team donated juice boxes to the Logos Academy/New City School and their new first grade class of students.