PCG Cares: Thankful for community
November was another busy month in the U.S. as colleagues came together through PCG Cares to support local communities in the spirit of the approaching holiday season. Check out our round-up below for a taste of the different ways we've been getting involved.
PCG staff in Nashville, Tennessee volunteered at the Nashville Diaper Connection on Tuesday, November 6th. This organization supplements emergency diapers to families in need, and their motto is "No Child Wet Behind." They provide diapers to over 1,000 babies per month, giving families access to child care centers and early education for their children. In one afternoon, the team was able to package 2,025 diapers that will be given out to families in the community.
Members of PCG's Nashville office volunteered with the Nashville Diaper Connection to support families in need.
The Olympia, Washington office participated in a food drive for two weeks before delivering goods to the Thurston County Food Bank in mid-November. They dropped off two turkeys, one ham and boxes of side dishes for the community, and then spent the afternoon at the food bank. The team bagged 900 pounds of potatoes and 1,250 bags of flour! These efforts made it possible for the food bank to serve up to 1,500 families a Thanksgiving meal.
PCG staff in Olympia prepped goods at the Thurston County Food Bank that ultimately served a Thanksgiving meal to up to 1,500 families.
PCG staff in South Portland, Maine volunteered at Partners for World Health on Tuesday, November 13th. This organization is committed to reducing medical waste and helping international communities in need by collecting medical supplies and equipment that U.S. healthcare facilities discard. The group spent the afternoon sorting bags of donated supplies into generalized bins. These bins are then used to create kits of supplies (respiratory kits, surgical kits, etc.). Approximately once a month, a shipping container is filled and sent overseas to a community in need.
South Portland PCGers helped repurpose medical waste for international communities in need by volunteering with Partners for World Health.
In mid-November, a PCGer went to Port St. Joe in Florida with his wife and good friend to help clean out homes that were affected by the flooding during Hurricane Michael. They stripped walls of drywall, plaster and insulation and then treated the wood to kill the black mold that was prevalent in flooded homes. It was heartbreaking to see the devastation in Port St. Joe and nearby Mexico Beach but uplifting to see so many people helping those affected.
The team worked with a charitable group named SBP that has the mission of shrinking the time from disaster to recovery. Since 2006, SBP has directly rebuilt homes for more than 1,500 families with the help of more than 180,000 volunteers in New Orleans, Louisiana; Joplin, Missouri; Staten Island, New York; Rockaway, New York; Monmouth/Ocean Counties, New Jersey; San Marcos, Texas; Columbia, South Carolina; Baton Rouge, Louisiana and most recently, Port St. Joe and Mexico Beach, Florida.
Fred Forrer of PCG, joined by his wife and friend, volunteered with SBP in Port St. Joe, Florida to help rebuild after the devastation of Hurricane Michael.
PCGers in the cities of Medford and Boston, Massachusetts, cleaned an eight-family homeless shelter on November 14th. The shelter is a renovated mansion that is part of a network of the nonprofit Heading Home, which manages over 100 shelters in the greater Boston area. Together the team raked nine bags of leaves from the yard, destroyed 12 magic erasers while scrubbing every inch of the house, and brightened all the windows! They made sure to provide a healthy and clean living environment for all 28 residents for the holidays.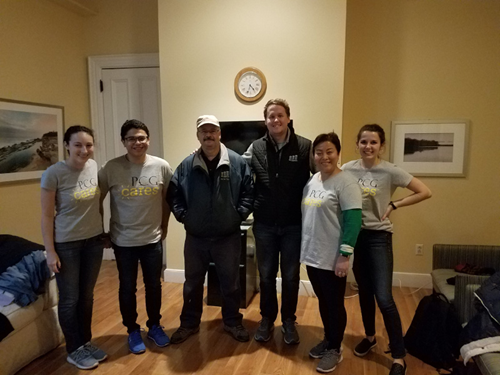 Staff in Medford and Boston worked with Heading Home to clean out a homeless shelter so that residents can enjoy the holidays.
On November 16th, seven team members from the Glen Allen, Virginia office participated in JA in a Day, a program hosted by Junior Achievement (JA) of Central Virginia. JA in a Day is a high impact way to deliver JA's lessons for a particular grade level all on the same day. The team enjoyed spending time with the 5th grade at Chamberlayne Elementary School to teach them about entrepreneurship and the global economy.
PCGers in Glen Allen taught 5th graders about entrepreneurship and economics during JA in a Day.
In late November, PCG colleagues in Ohio volunteered at Star House in Columbus, the only 24/7 drop-in center for homeless youth ages 14-24 in Central Ohio. By offering a safe place for homeless youth to seek services and establish the trust needed to access stabilizing resources such as housing, clinical therapy, and employment opportunities, Star House helps youth get connected with peers and reconnected with the community. The team worked in the warehouse to organize donations.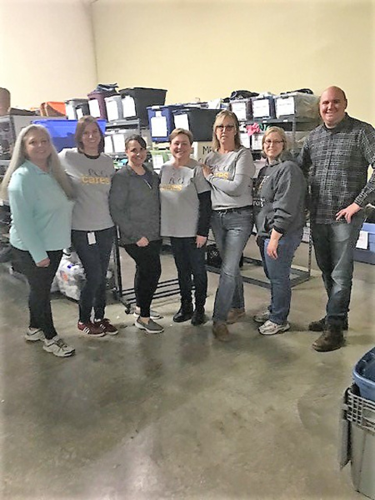 PCG staff in Columbus organized donations at Star House to support homeless youth.
Several team members in Phoenix volunteered at the Salvation Army's Laura Danieli Senior Activity Center on November 20th to help with lunch service for their plated Thanksgiving meal. This involved helping to set the table, providing beverage service, serving food, clearing the table, and washing the dishes. Best of all was interacting with the residents! PCG staff volunteer at the Center frequently and love helping the aging community. The team looks forward to returning to serve the residents their Christmas lunch in December.
Phoenix colleagues served a plated Thanksgiving meal to residents of the Salvation Army's Laura Danieli Senior Activity Center.