PCG Cares: Making an impact in March
Throughout March, PCG Cares teams across the U.S. supported various nonprofit organizations in the core industries we also serve as a firm: education, health, and human services. Thanks to everyone that came together to make these events a success! See below for this month's round-up of volunteer efforts.
PCG Cares in Austin, Texas celebrated Amplify Austin Day, the city's annual community giving day that is held for 24 hours from February 28th to March 1st. This program is hosted by I Live Here I Give HereTM, a nonprofit organization on a mission to make Austin the most generous community in the nation. At AmplifyATX.org, I Live Here I Give Here provides a digital marketplace that connects local donors with Austin area nonprofits all year long, allowing them to donate to charities in their neighborhood on one easy-to-use platform. The PCG Cares committee provided breakfast so employees could join together while sharing a little kindness with the nonprofit of their choice.
Staff in Austin celebrated Amplify Austin Day by donating to various nonprofit organizations in the area.
With the generous support and creative hearts of the Hammonton, New Jersey office, PCG Cares members were able to decorate and package 180 bags of snacks for families staying with the local Ronald McDonald House in early March.
PCGers in Hammonton decorated snack bags for local Ronald McDonald House families.
A group of volunteers from the Albany and Troy, New York offices also headed to their local Ronald McDonald House for a Day of Service in late March. The team tackled a list of chores provided by the organization, including refilling their "pet shop" with stuffed animals for the children to "adopt" during their stay, and cleaning and disinfecting throughout the house to make sure it's a safe environment for their immuno-compromised guests.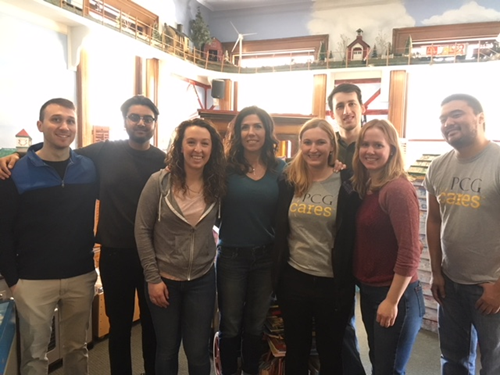 Members of the Albany and Troy offices volunteered with their local Ronald McDonald House to provide a safe and comfortable environment for visiting families.
On March 20th, Clarkston, Washington PCGers made beautiful baskets for a fundraiser hosted by the Twin County United Way that was located at a local Waffles -n- More Restaurant. This amazing event raises funds for the Kindergarten Readiness (Kindergarten Boot Camp) program for the Lewiston & Clarkston area every year. Some of the PCG staff attended and served plates to families that came and supported the event.
PCG staff in Clarkston supported the Twin County United Way fundraiser to benefit the organization's Kindergarten Readiness program.
Throughout March, Boston's PCG Cares team coordinated with Building Impact, a nonprofit organization that designs corporate days of service and team volunteering in the Boston community. First, Boston staff participated in a book drive from March 4th to the 20th to collect books, CDs, DVDs, and video games. All donations supported More Than Words, a job training and youth development program that empowers nearly 350 disenfranchised youth each year to take charge of their lives by leading a $4 million bookselling business. Then on March 26th, PCG Cares volunteers teamed up with Building Impact yet again to learn about The Petey Greene Program, a prison education program that uses volunteer college students to tutor incarcerated individuals. Attendees wrote inspirational messages to the tutors and students in the tutor guidebooks.
The Boston team partnered with Building Impact for a book drive to support the job training and youth development program, More Than Words.