PCG Cares goes back to school
It's hard to believe that the start of a new school year is right around the corner, but as we all know: time flies when you're having fun! That's certainly been the case for us at PCG this year with so many employees engaging in our PCG Cares program: seeing all the different ways our colleagues are making an impact in the communities where we live and work has been exciting, not to mention energizing. The back-to-school season was no exception as teams across the firm came together to help students and teachers start off the 2018-2019 school year right. Here are a few highlights from the back-to-school events PCG staff participated in this month. Enjoy!
For the sixth year in a row, colleagues from our University Instructors, Inc. (UI) team were in Darius Rucker's home state of South Carolina for Hootie and the Blowfish's 12th Homegrown Roundup. The team handed out school supplies to the more than 1,000 students at the event, all of whom attend Charleston County School District. In preparation for the 2018-2019 school year, students obtained eye exams, dental exams, haircuts, and supplies, such as pencils, notebooks, and backpacks, donated by Hootie and the Blowfish and various community businesses. 
PCG is proud to partner with Charleston County School District and hopes Charleston County has a great school year!
Darius Rucker pictured with PCG staff from our UI team.
PCGers distributed school supplies to Charleston County students at the 12th annual Hometown Roundup.
Colleagues from our Clarkston, Washington office held a fundraising drive to collect backpacks and school supplies for the Twin County United Way and, more specifically, for children who graduated from the United Way's Kindergarten Readiness Program this summer and will be starting Kindergarten this year. This program supports children in need of extra help to gain skills and supplies before starting school.
Clarkston staff collected backpacks and school supplies for the Twin County United Way's Kindergarten Readiness Program.
In Glen Allen, Virginia, staff participated in a PCG Cares event to support Richmond Public Schools and the RPS Shines initiative, a program designed to involve the community in getting schools ready for the upcoming year. PCG's team spent the day at George Wythe High School in Richmond, Virginia cleaning windows, counters, doors, and hanging ceiling tiles. The event was a huge success, with George Wythe High School Principal Reva Green personally thanking PCG's team for coming to her school to help. This event was a great opportunity for the team to support a very deserving school, and to have some fun in the process!
PCG's team with George Wythe High School Principal Reva Green.
 Members of our Public Partnerships team in Phoenix volunteered at OCJ Kids, a group that works with children in the foster care system and group homes. The team spent the day sorting school items that local businesses had donated through "back to school" drives. Once sorted, all the items were counted and prepped to be stuffed in backpacks.
Public Partnerships staff in Phoenix sorted and packed school supplies into backpacks at OCJ Kids.
After the City of Portsmouth Welfare Department put out a call to boost their school supplies for the new year, staff from our Portsmouth, New Hampshire office launched a campaign to collect backpacks full of supplies for students. The Department said area families who come in often express how hard it is this time of the year. People put money aside for holidays and emergencies, but often this leaves little for the growing demand of school supplies for children from preschool age through college. PCG was proud to help provide those needed school supplies and looks forward to partnering with the Department again to offer assistance to students and families during the winter season.
Backpacks and school supplies PCGers collected for the City of Portsmouth.
In Augusta, Maine, staff held a PCG Cares challenge throughout the month of August to see which team within the office could collect the most school supplies to distribute to Augusta schools. Colleagues really embraced the friendly competition and far surpassed the goal of the challenge, collecting pens and pencils (1,653), erasers (247), boxes of crayons, markers, and colored pencils (206), notebooks (118), folders (71), glue sticks (70), backpacks (8), lunchboxes (2), and lots of miscellaneous items, like boxes of tissues and ziplock bags (30), to name just a few. While they certainly had a lot of fun competing with each other, the result is what's most important: coming together to support schools and students throughout the community.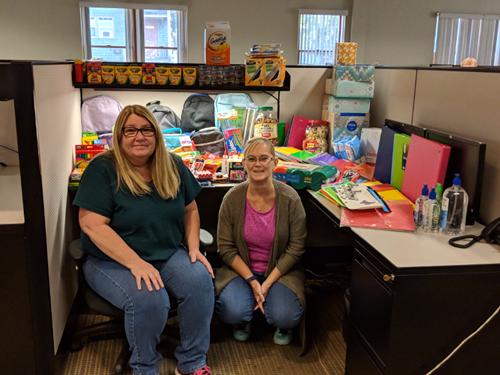 Some of the school supplies collected by the teams in our Augusta office.