Ohio's Improving Outcomes for People with Disabilities Collaboration Named the 2023 Recipient of the Cathy Anderson Award for Public-Private Partnership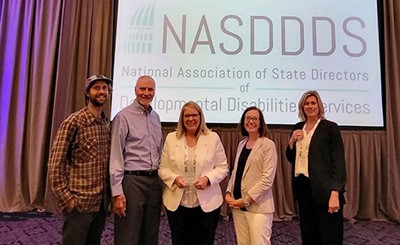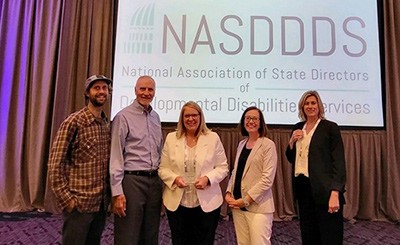 The award ceremony at the NASDDDS Conference on June 15, 2023, in Portland, Oregon
Photo (left to right): Maxwell Young, Cathy Anderson's son; Timothy Young, Cathy Anderson's husband; Kimberly Hauck, Ohio Department of Developmental Disabilities; Jill Reynolds, Associate Practice-Area Director, PCG; Mary Sowers, Executive Director, NASDDDS
Public Consulting Group (PCG) and the National Association of State Directors of Developmental Disabilities Services (NASDDDS) are pleased to announce that Ohio's Improving Outcomes for People with Disabilities collaboration is the second annual recipient of the Cathy Anderson Award for Public-Private Partnership.
This award is a collaborative effort between PCG and NASDDDS. It was named in memoriam of Cathy Anderson who is recognized for her impactful public service career in support of people with intellectual and developmental disabilities (I/DD).
The Cathy Anderson Award for Public-Private Partnership recognizes collaborations that embody the promise and possibility that can emerge from strong partnerships. It also highlights the power of bringing public and private expertise to the table to support people with I/DD, so they can have fulfilling lives in their communities.
During her career, Anderson held leadership roles in state agencies supporting people with I/DD and was responsible for the organization and management of statewide service systems. Anderson was the program director of I/DD services in Nebraska and the District of Columbia. In Iowa, she served as the chief deputy director for the Department of Human Services where she supervised the divisions of Medicaid, Mental Health, Child Welfare, Economic Assistance, Developmental Disabilities, and Policy. She was also a past president of the NASDDDS Board of Directors.
In addition to her work in public service, Anderson served in the private sector, providing consultation and technical assistance to states in her role at PCG. In this capacity, Anderson demonstrated the power of public-private partnerships to achieve significant, lasting systems change to improve the lives of individuals with disabilities.
Selected from an extensive list of applicants, the second annual award recipient, Ohio's Improving Outcomes for People with Disabilities (Improving Outcomes) is a collaboration of individuals and organizations led by the Ohio Association of Health Plans (OAHP) and the Ohio Center for Autism and Low Incidence (OCALI). Using a collective impact framework, Improving Outcomes' goal is to equip Ohio's health care partners with knowledge, tools, confidence, and resources to address inequities and disparities and improve the health of people with disabilities across the lifespan. They do this through educational opportunities, such as round tables and innovative pilot projects.
Improving Outcomes is unique in that the intended audience is health care. Even more unique is the fact that health care payors have led this effort alongside people with disabilities to improve health care outcomes and social determinants of health of people with disabilities. This partnership can serve as a model in terms of the partners, use of collective impact, content of roundtables, and learnings from the pilots.
PCG Associate Practice-Area Director Jill Reynolds said, "It's with great pride that PCG is co-sponsoring the Cathy Anderson Award for the award's second year. We are pleased to recognize the OCALI and OAHP partnership's Improving Outcomes for People with Disabilities initiative. The quality and substance of this program represent Cathy Anderson's life work and legacy at the heart of this award.
Reynolds continued, "By highlighting this year's recipients and their very important work we celebrate and encourage other public-private partnerships to meaningfully contribute to improving the lives of people with disabilities every day."
Over 200 people from around the world attended the 2022 Improving Outcomes roundtable series live, and viewers continue to access the content online. The collaboration partners are also conducting quarterly follow-ups with attendees to measure impact and practice change. A large percentage of registrants were medical students and directors of education programs at medical colleges. The partnership is impacting current and future practitioners, and this is only through one of multiple outreach efforts.
NASDDDS Executive Director Mary Sowers said, "I can think of nothing more fitting to honor the legacy of Cathy Anderson than to have an opportunity to recognize the true power of collaborative efforts across the public and private sphere to support those with I/DD in accessing health care, which is sensitive to the unique needs of this community."
Sowers continued, "It is a great honor to review each submission and understand how lives are changing due to this work. A well-deserved congratulations to Ohio for their thoughtful efforts in creating space for positive advancement in their state with advocates at the helm."
Find out more:
2023 Video: Cathy Anderson Award for Public-Private Partnership
The following is an honorable mention for the award, as the submission illustrated the spirit, character, and results-driven collaboration that embodied the work of Cathy Anderson.
| | |
| --- | --- |
| Integrating Standardized Data to Advance Person-Centered Planning, Outcomes, and Value Based Payment Models | Missouri |