Announcing Our FY23 EPIC Awards Winner for Community!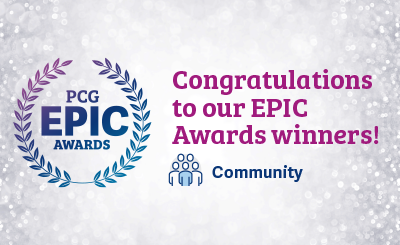 PCG's quarterly employee recognition program, aptly-named the EPIC Awards, is designed to help bring the firm's four core tenets—Entrepreneurial Spirit, Passion, Impact, and Community—to life in a tangible way. Today, we are thrilled to announce that Guy Reynolds, Director of Talent Acquisition, has been selected as PCG's final EPIC Awards winner for fiscal year 2023 (FY23) in recognition of his dedication to fostering a diverse, inclusive Community at PCG.
Guy was nominated by Tobi Russell, Chief People Officer, for his leadership in acquiring and fostering diverse talent. Since joining the firm in 2020, Guy has been instrumental in driving talent initiatives and building community partnerships. His efforts have directly contributed to improved hiring outcomes and helped differentiate PCG as a great place to work on the national level.
Building a Veteran Community
As an Army National Guard veteran, Guy has helped bolster PCG's efforts to recruit and retain more veteran employees, who bring unique experience and skillsets to the firm. He started the PCG Veterans group, which has not only increased veteran hires, but also provided an inclusive space to support PCG's veteran community. In addition, Guy has established strategic partnerships with various veteran programs, such as the U.S. Army Partnership for Your Success (PaYS) Program, which connects enlisting soldiers and Reserve Officers' Training Corps (ROTC) cadets to post-military career opportunities. As a result of the PaYS Program and other community partnerships, PCG's veteran hires have doubled year over year. These results were recognized by Military.com, the premier digital resource for the military community, which awarded PCG the Veteran Hiring Pledge.
Reflecting on Guy's contributions to building PCG's veteran community, Russell said, "Although there is still more work to be done, Guy has put PCG on the right path and helped us forge into this space in a meaningful way. We are making real sustained changes in our veteran recruitment efforts and will continue to implement programs to better support our veteran community."
Supporting Underrepresented Talent
In addition to building the veteran community, Guy has also made it a focus to support underrepresented talent at PCG. Not only does he actively establish relationships with community partners for this purpose, he also continually engages in learning opportunities to help him better support diverse communities.
One of Guy's focuses has been to establish partnerships with historically Black colleges and universities (HBCUs). He manages the firm's partnership with the DirectEmployers Association, which helps PCG advertise its open positions to diverse job seekers. Guy has also been an active participant in diversity-related events. He attended the National Black MBA Conference and conducted a workshop on best practices for recruiting at HCBUs at the annual HBCU Conference.
In addition, Guy has led PCG's efforts to recruit and support people with disabilities. He is the primary liaison for the firm's partnership with Work without Limits, a network of employers and partners that aims to increase employment among individuals with disabilities in Massachusetts. Guy has attended several Work Without Limits events to network with local community organizations and hone his acumen in navigating relevant recruitment and retention efforts.
Russell attests to the significance of Guy's dedication to supporting underrepresented talent at PCG, "Hiring diverse employees is critical to our business and supporting our clients. The results of Guy's efforts are noteworthy for diverse applicants and hires and PCG's overall presence in the labor market. These outcomes are differentiators for PCG's brand in the community."
Fostering the Next Generation
Guy has also been a strong advocate for developing the next generation of leaders. He organized PCG's first formal internship program with a focus on seeking talented, diverse students. Since its inception, the program has been a critical success. Dozens of interns from various backgrounds are placed across PCG departments every year, and some of them have remained at PCG post-graduation. These efforts have helped the firm become recognized as a top employer for Generation Z. PCG was named in the 2021 RippleMatch Next Gen 100 List, which highlights the top 100 workplaces that empower the next generation of talent to thrive personally and professionally, and the 2023 RippleMatch Campus Forward Awards, which recognizes top early career teams and programs.
On behalf of the Human Capital Leadership Council, congratulations and a heartfelt thank you to Guy Reynolds for his dedication to building a diverse, inclusive community at PCG.