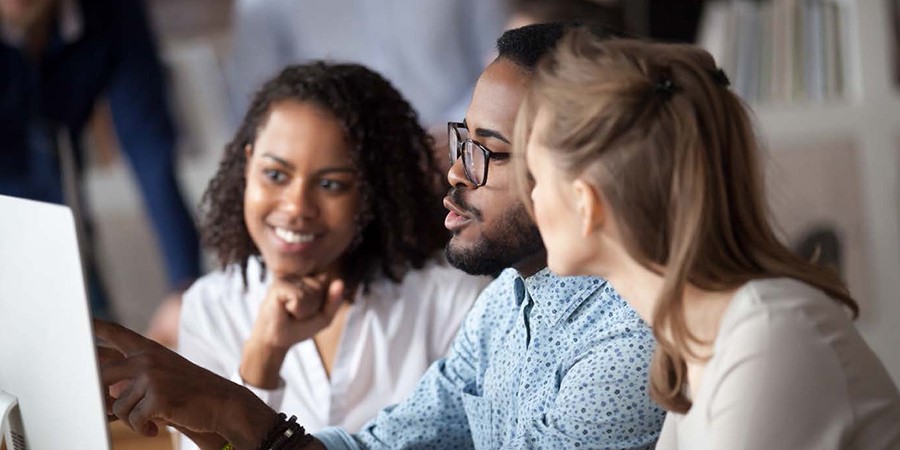 National Apprenticeship Week
---
PCG is excited to celebrate National Apprenticeship Week (NAW), an annual event established by the US Department of Labor (DOL) to build awareness of apprenticeship programs and the positive impact they have on the American workforce, particularly in closing the skills gap and creating high-quality career pathways. This week recognizes some of the valuable and impactful apprenticeship work being done by our partners across the public and private sectors. In honor of NAW, PCG is proud to support efforts to strengthen the national workforce and create opportunities for individuals in need by building talent pipelines, supporting equity, and more.
Have a question about apprenticeship or an idea you'd like to discuss? Let's connect!


Featured Workforce Development Projects & Solutions
---

Tech Quest Apprenticeship (TQA)
---
PCG partnered with Clark University, partners, and successfully secured $12M in DOLETA funding to match 5000 workers with apprenticeship and pre-apprenticeship opportunities in high-demand tech jobs over four years. The initiative, called Tech Quested Apprenticeship (TQA or Tech Ques) launched August 2019.



Interested in TQA? Check out this article covering a LinkedIn blog post written by PCG's Uri Shatten, TQA Project Manager: Bridging gaps between employers, job seekers through tech apprenticeship.

Virtual Employment Readiness Assistant (VERA)

---
Managing apprenticeships and the wide array of partners - all with unique data needs and approval processes - can be complicated. Learn how PCG has adapted VERA to make those interactions simple, transparent, and efficient.



Here's How We Are Leading the Field 
---
PCG's workforce programs are built on key principles for success:
Grow opportunity by growing industry
Build flexible, scalable, and replicable solutions
Engage state and local partners to braid resources and create opportunity for those in need

Through these principles, PCG and our apprenticeship partners have already been recognized as leaders in developing and deploying innovative and effective workforce development programs and is a frequent presenter to U.S. DOL. Sample presentations to DOL policymakers and grantees include:
June 25, 2020: Braiding Funds: Yielding Greater Flexibility and Impact
July 30, 2020: Industry-Recognized Apprenticeship Programs: Virtual Apprenticeship Forum
August 4, 2020: Options and Benefits: RAP and IRAP Apprenticeship Models
October 21, 2020: Supportive Services Best Practices Exchange
Interested in learning more about apprenticeship programs, innovative work-based learning solutions, or our workforce development services in general? Contact us today!


Ezra Sykes, Associate Manager
(617) 717-1055
esykes@pcgus.com
www.publicconsultinggroup.com