Supporting Clark University with a $10 Million DOL Grant for Workforce Training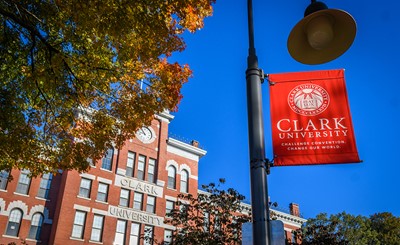 On January 21, 2021, Clark University in Worcester, MA, was awarded a $10 million apprenticeship grant from the U.S. Department of Labor's (DOL) Employment and Training Administration (ETA) to help provide workforce training for jobs in industries that are currently in demand, such as information technology (IT), manufacturing, and transportation.
Public Consulting Group (PCG) will be working with Clark University in this public-private sector partnership between the university and the national workforce system. PCG will support business engagement and recruitment technical assistance for local workforce boards. The goal is to provide unemployed and underemployed workers with access to training that can lead to job opportunities in designated industries.
For this grant, Clark University's School of Professional Studies will establish the TechBoost Program through a partnership also involving three other education providers, four workforce development boards, and six employers. They will provide IT and IT-related industry sector-based credential and work-based training to participants.
Participating Grant Partners:
Florida Career College, Holyoke Community College, and Quinsigamond Community College
CareerSource Tampa Bay, MassHire Boston, MassHire Central, and Partner4Work
City of Worcester, IQ4, Lucravalde, Ownforce, PCG, and the Worcester Regional Chamber of Commerce

The TechBoost Program will give 800 unemployed and underemployed workers training and retraining in IT and IT-related careers. In addition to training, participants will receive placement within work-based learning opportunities, such as on-the-job training, paid internships, and apprenticeship programs.
In August 2019, PCG also partnered with Clark University to provide administrative, programmatic, and partnership coordination support for a $12 million apprenticeship grant the university received from the DOL ETA. Through the Tech Quest Apprenticeship, PCG is currently working with Clark University and a national consortium of workforce development boards and higher education institutions to provide 4,000 pre-apprenticeships and 1,000 IT and IT-related apprenticeships to unemployed, underemployed, and incumbent workers through 2023.
In the news release by Clark University on January 21, 2020, Assistant Secretary of Labor for Employment and Training John Pallasch said, "in a post-coronavirus world, it is critical that local organizations think as one instead of independent parts of a process. Our goal is to create seamless community partnerships to build career pathways for local job seekers to enter middle- to high-skilled occupations in cyber security, advanced manufacturing and transportation."[1]
Click here to access Clark University's recent news release.


________________________________________
[1]

Clark News & Media Relations, "Clark University Receives $10 Million Grant from the U.S. Department of Labor for Workforce Training," Clark University, January 21, 2021, https://clarknow.clarku.edu/2021/01/21/clark-university-receives-10-million-grant-from-the-u-s-department-of-labor-for-workforce-training/