Read to be Ready, The Importance of Summer Camps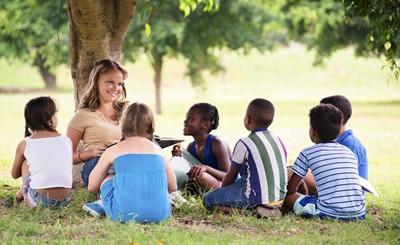 Starting next month, more than 7,700 Tennessee students will participate in the extraordinarily successful Read to be Ready summer camps the Tennessee Department of Education (DOE) offers to improve reading levels and stave off the "summer slide." This year will see 22 percent more students participating than participated last year–and more than 13 times as many when Read to be Ready was first launched in 2016.
What is Read to be Ready—and why is it so important and so effective? Earlier this year, at a panel discussion sponsored by PCG at the SXSWedu conference in Austin, Texas, Read to be Ready Program Director Paige Atchley talked about the history and success of the program and its overall goals here.
The impetus for launching Read to be Ready Came when, using state tests, the Tennessee DOE found that less than half of third and fourth graders were reading at grade level, and just one-third of economically disadvantaged students achieved proficiency by the end of third grade. National research has shown that children not reading proficiently by third grade are four times less likely to graduate high school by age 19, affecting their earnings and career options and increasing the likelihood they remain or end up in poverty.
Determined to improve these numbers, the Tennessee DOE created the statewide Read to be Ready campaign. It's a multifaceted approach, with summer reading camps–designed to be fun and inspiring and not feel like "summer school"– just one element. Other components of the campaign included a coaching network for educators and resources for teaching literacy. The literacy camps began in 2016 and were meant to target economically disadvantaged rising first through third grade students who were furthest behind in their literacy development. By providing students with high-quality texts and literacy experiences, they develop comprehension skills and a broader vocabulary, all while stemming the common loss of proficiency experienced by many students during their summer break from the classroom.
When the campaign launched in 2016, the Dollar General Literacy Foundation presented the DOE with a $1 million gift for three years of literacy-rich summer instructional programs for students. In 2017, after seeing the immediate, measurable success of Read to be Ready, the Tennessee Department of Human Resources invested $30 million over three years to greatly expand the program.
The summer camps have already delivered notable results. Participating students show statistically significant gains in literacy: Reading accuracy increased by an average of almost five percent, comprehension increased by an average of two percent, and the motivation to read increased by an average of three percent. Read to be Ready positions students for even greater achievement levels when they return to regular school in September.
Here at PCG, we see Read to be Ready as an inspiring success story and a model for all states and school districts to consider as they work to improve literacy and comprehension and make sure students don't lose learning momentum over the summer. As you listen to Paige Atchley describe the program at SXSWedu here, we think you will see how she epitomizes the energy, passion, and commitment of everyone at Tennessee DOE who are making Read to be Ready such a success for students all across the Volunteer State.