Public Consulting Group wins Intranet Upgrade Contract with Kingston Hospital NHS Foundation Trust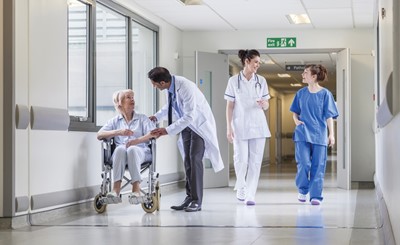 Expanding service to NHS affiliates a key 2018 PCG goal in UK
LONDON, January 18, 2018 – Public Consulting Group (PCG) is honoured to announce that its Technology Solutions unit has won a contract with Kingston Hospital NHS Foundation Trust to develop an upgraded Intranet serving the hospital's 3,000 staff.
By streamlining and optimising access to hundreds of policy and procedure documents and other digital resources, the new Intranet will empower Kingston Hospital staff to find information faster and give them back more time to devote to the more than 550,000 patients hospital cares for each year, including the delivery of 5,650 babies.
PCG last year won a similar Intranet contract with Wye Valley NHS Trust in Herefordshire, which has more than 3,000 workers and serves a population of 180,000.
"PCG has been eager to build on our deep experience providing public-sector customers with best-of-breed information technology solutions to expand our role serving NHS foundation trusts throughout the United Kingdom,'' said PCG Director Claire Hewitt. "We're honoured by the confidence Kingston Hospital and Wye Valley have placed in us. We are committed to providing their staff with top-performing Intranet solutions that make their work easier, save them time, and help them maximise their focus on delivering excellent patient care."
Located within Kingston-Upon-Thames in South West London, Kingston Hospital NHS Foundation Trust provides services to approximately 350,000 people locally in Kingston, Richmond, Merton, Wandsworth and Surrey. In the last year the Trust saw over 116,000 patients in A&E, undertook 420,000 outpatient appointments, and cared for 57,000 inpatients. As well as delivering services from the main hospital base, the Trust delivers ambulatory services at a range of community locations in partnership with GPs and community providers.
Kingston Hospital's current Intranet was designed several years ago and has grown to include more than 400 online forms and thousands of other documents. PCG's work will include:
upgrading the Intranet to 2018 best practices for performance and display
rationalising access to content and creating new online forms for Trust processes where appropriate
upgrading and accelerating search functionality
making Trust news and updates easier for staff to find.
From an initial pool of several hundred identified potential vendors, PCG was on a shortlist of six and later competed with two other providers before being awarded the contract in autumn 2017.
About Public Consulting Group
Public Consulting Group (PCG) is a leading public sector management consulting and operations improvement firm that partners with health, education, and human services agencies to improve lives. Founded in 1986 and headquartered in Boston, Massachusetts, PCG has over 2,000 professionals in more than 50 offices across North America and in Europe. The firm has five designated practice areas with extensive experience in all 50 states, clients in six Canadian provinces, and a growing practice in Europe. Often combining resources from two or more practice areas, PCG offers clients a multidisciplinary approach to solve their challenges or pursue opportunities. To learn more, visit http://www.publicconsultinggroup.co.uk/.
Media Contact
Stephen Skinner, Public Consulting Group
(617) 717-1150
sskinner@pcgus.com