PCG Program Manager Leigh Ann Newman Received International Board Appointment for the Association of Proposal Management Professionals (APMP)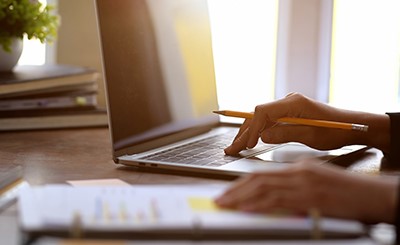 Public Consulting Group (PCG) is pleased to announce the appointment of Leigh Ann Newman, Senior Program Manager, Marketing and Proposal Operations, to the International Board of Directors of the Association of Proposal Management Professionals (APMP). This two-year term is taking place from 2021 through 2022. APMP's board currently includes 12 appointees and five Executive Committee members. The organization has over 10,000 members worldwide.
Leigh Ann's recent board appointment reflects her extensive experience. She has worked on proposals for human services since 2008 and was promoted to Senior Program Manager of proposal operations in 2015 at which time she also became foundation-level certified with APMP. Leigh Ann has since also achieved a practitioner-level certification with the association.
Proposals at PCG
Formal proposals (both digital and in print) are a main procurement vehicle that PCG provides to public sector agencies when they consider hiring our organization for services. Founded in 1986, PCG partners with health, education, and human services agencies to deliver solutions to improve lives.
Specifically related to Leigh Ann's work in the field of human services, PCG helps state, county, and municipal agencies respond to change, enhance operations, improve access to services, optimize processes and compliance, and achieve their performance goals to better serve populations in need. Consulting services offer proven solutions to help agencies design programs, services, and systems; increase program revenue; cut costs; and improve regulatory compliance with state and federal regulations.
Regarding APMP's guidance for PCG's proposal work, Leigh Ann said, "our firm overall values APMP as the premiere organization for best practices that also provides certifications and resources for proposal professionals."
International APMP Board Appointment
Following her introduction to APMP, Leigh Ann became a member of the Board of Directors for the Pacific Northwest (PNW) chapter, which paved the way to her current appointment as an international APMP board member. While serving on the PNW Board of Directors, Leigh Ann developed proposal training for managers based on best APMP practices for human services staff.  This training takes place two times per year for three and a half months each term. Leigh Ann also creates customized proposal training for PCG employees.
Transitioning from a regional APMP position to an international board appointment in January has been an intrinsic and significantly valuable next step for Leigh Ann. She strongly believes in APMP's mission to "be the trusted leader that serves a global community of bid and proposal development life cycle professionals."1 Leigh Ann said, "I am honored by this appointment and appreciate seeing the workings of APMP behind the scenes. I also value the tools I can bring back to PCG to improve processes."
Leigh Ann's Scribble Talk Podcast for Proposal Professionals
Baachu Scribble, "the premier online community for Bid and Proposal professionals,"2 recently interviewed Leigh Ann about her new international APMP board appointment. Click here to access this Scribble Talk podcast that discusses Leigh Ann's professional human service and proposal career; her work and the work of her colleagues at PCG; and helpful general questions and answers for proposal professionals.  
PCG's Ongoing Proposal Work
As Leigh Ann's partnership with APMP continues to grow stronger, PCG greatly benefits from it as well. While PCG continues to create proposals to provide services and proven solutions to meet the needs of human service agencies across all 50 United States in the areas of child welfare and youth; early education and childcare; vocational rehabilitation and workforce development; aging and disabilities; and technical support; APMP continues to provide invaluable best practices and industry standards during the process.


To learn more about Human Services solutions at PCG, visit http://www.publicconsultinggroup.com/humanservices/
You can also learn more about APMP by visiting: https://www.apmp.org/
 
______________________________________
1 "APMP's Mission Statement," APMP, accessed February 11, 2021, https://www.apmp.org/page/AboutAPMP


2 "Scribble Talk: Today's Guest is Leigh Ann Newman," Baachu Scribble, accessed on February 11, 2021, https://baachuscribble.com/scribble-talk-episode-90-leigh-ann-newman/