PCG Develops Special Education Effectiveness Framework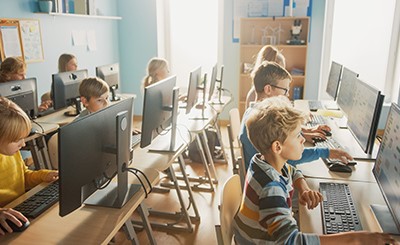 April 30, 2021 – Public Consulting Group (PCG), a leading consulting firm supporting state and local education agencies across the country, today announced the launch of its Special Education Effectiveness Framework: a resource to help superintendents and district leaders improve educational and functional outcomes for students with disabilities.
Building on their collective experience and expertise serving school districts and state departments of education nationwide and on extensive research, PCG developed the Special Education Effectiveness Framework to assist school districts in catalyzing conversations about, and reviewing and improving the quality of, their special education programs. It is designed to provide school district leaders with a set of practices to strengthen special education services and supports, and to highlight the multidisciplinary, integrated nature of systemic improvement.
"Understanding all of the components needed to create a school environment conducive to growth for students with disabilities can feel daunting," said Dr. Jennifer Meller, Associate Manager at PCG. "We developed this framework to help districts assess their current approach, from staffing to instruction to family partnerships, and to help them create a plan for systemic improvement. We've used our collective experience serving clients nationally, in addition to reviewing the current research, to develop an actionable resource that we hope educators will use to plan for the diverse needs of students and their families."


The Special Education Effectiveness Framework inventories essential actions in six domains:
Learning Environment and Specialized Services
High Expectations
Family and Community Engagement
Leadership
Human Capital
Systems and Structures
Informed by over 35 years of experience supporting more than 3,500 special education departments across the country, PCG is pleased to provide the Special Education Effectiveness Domains policy brief as a free resource for school districts. It is available for download here.


About Public Consulting Group
Public Consulting Group LLC (PCG) is a leading public sector solutions implementation and operations improvement firm that partners with health, education, and human services agencies to improve lives. Founded in 1986 and headquartered in Boston, Massachusetts, PCG employs over 2,500 professionals in more than 40 offices worldwide. PCG offers education consulting services and technology solutions that help schools, school districts, and state education agencies/ministries of education to promote student success, improve programs and processes, and optimize financial resources. To learn more, visit http://www.publicconsultinggroup.com/education/.
In partnership with clients, PCG designs and delivers training and technical assistance to build strong leaders, increase educators' ability to improve instruction, develop standards-based curriculum, and meet the needs of diverse learners along the pathway to college and career readiness. PCG supports practitioners at all stages of standards implementation and school improvement.