Improving outcomes with data and financial incentives around the world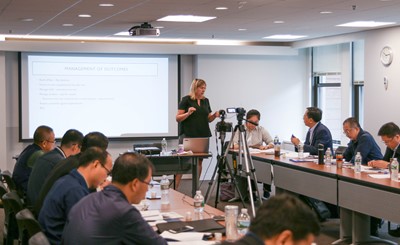 Data driven decision making, long the norm in the private sector, is becoming prevalent in the public sector.  This is true not only here at home, but also around the world as many countries grapple with how to improve outcomes while living within constrained budgets.  Evidence-based policy making, using data to inform decisions, and paying for performance are all tools being used to improve results.
On September 18, 2017, Human Services Director Kathy Fallon had the great honor to speak to 20 finance ministers from 16 provinces in China.  The daylong seminar was organized by Triway International and furthered their goal to bridge China with the rest of the world.  The group began their week at Public Consulting Group (PCG) before heading to meetings with the Massachusetts Comptroller's office, the Officer of the Inspector General, and the Treasurer of the City of Boston.
While at PCG, Kathy discussed the evolution of the budget process in the United States, explaining how it grew from an accounting document to a performance management tool.   Considerable focus was paid to payment and performance incentives, and how to move from an organization that pays for inputs to one that pays for outcomes and results.  Participants were particularly interested in discussing how to price contracts based on the complexity of the offering, and what services can be privatized effectively. 
During the afternoon session, the group moved to the topics of evidence-based practice and data informed decision making.  Attendees learned about the Government Performance Act and how the reporting of results can be used to drive policy decisions.  When outcome data is combined with financial data, the public manager has the power to understand which programs and projects are returning the best value.  
With the aid of an able translator, an excellent discussion with many questions was achieved throughout the day.  The language barrier obliged both the questioners and answerer to break concepts down into their most fundamental elements.  The process of successfully explaining these complex concepts to foreign visitors from a different governmental system reinforced for Kathy the true power of the path we are on: paying for what is proven to work and continually improving performance.  The messages resonated as well with Chinese finance ministers as it does with leaders in the US.