Celebrating our most passionate employees – PCG announces second EPIC Award winner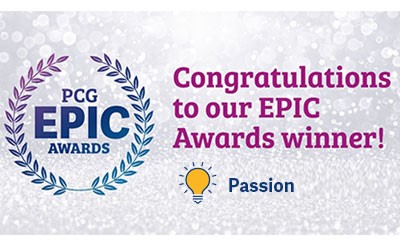 Last Fall, we launched a new quarterly employee recognition program called the EPIC Awards to help bring the four tenets that define PCG's ethos—Entrepreneurial Spirit, Passion, Impact, and Community—to life in a tangible way. Today, we are thrilled to announce that Lance Wilson, a member of our Corporate Technology team, has been selected to receive PCG's second EPIC Award in recognition of his Passion and ongoing commitment to delivering solutions that matter to our employees, the firm, and those we serve.
Lance was nominated for the Passion EPIC Award by several colleagues, including PCG's Chief Information Officer, for the enthusiastic and passionate approach he takes to ensure all staff have the hardware, peripherals and software needed to be successful in their individual roles. Since joining PCG a little over a year ago, Lance has worked passionately to improve the employee experience at PCG; from onboarding and offboarding to asset procurement and management, and more, Lance has been an integral part of numerous initiatives to improve internal processes that impact employees.
Working closely with members of the HR team, Lance has committed himself to learning everything he can about PCG's process flows when onboarding and offboarding employees in order to streamline existing processes or identify automation opportunities that will increase efficiencies. Lance's passion for onboarding new hires led him to begin working closely with PCG's procurement team to make the process managers follow when procuring assets for new hires as intuitive and as easy as possible. Within his own team, Lance has also initiated and led several important efforts to improve onboarding from an IT standpoint, including creating an equipment reference guide for new hires, developing a training curriculum that new hires complete within their first three weeks at PCG, and more.
There is no denying Lance's commitment to improving the onboarding experience, but it doesn't end there: he's also shown a keen interest in enhancing employees' use of technology in their day-to-day roles. For example, Lance meets regularly with local site office liaisons to discuss what is happening in their areas and learn how the Corporate Technology team can help make their workday more productive.
Lance is also extremely passionate about supporting PCG's asset management processes. Not only does he work to ensure new employees have the equipment they need on their first day of employment at PCG, but also he strives to help employees acquire replacement equipment as quickly and as seamlessly as possible when their equipment is either broken or in need of upgrades.
What employees had to say about Lance
"Lance comes with a wealth of experience in management and IT and leads with kindness and ownership…Our process has improved greatly with his help, and it's been a pleasure getting to know the team. I look forward to the continuous improvements that Lance will bring to help our existing and new onboarding processes." – Customer Service Director
"A tremendous resource…Lance is solution oriented, responds quickly, and with a positive outlook and attitude that is contagious. He deserves to be recognized for his hard work and for being such a great partner to us in Customer Experience." – Sr Manager Customer Service
"As a Business Relationship Manager, I could not ask for a better partner…He quickly identified a need and started an initiative. Lance has an excited, honest ambition to improve the "onboarding experience" for new PCG employees. Lance has taken a measured approach to solving this complicated problem and is very resourceful and humble…I cannot recall any time that Lance was not available when there was an issue to be resolved or a process to be improved. He uses the information gathered to further the betterment of the employee experience." – Business Relationship Manager
"I have now worked with Lance for close to a year and have been amazed at not only the work he has completed, but with the energy and excitement that goes along with it. Lance and I are a part of a very large onboarding project…Lance has taken on the entire scope of the project and has impactfully gained so much ground toward a good outcome…He has gathered the right cross functional people, ran separate meetings to gain understanding and proposed changes that will impact the organization…
It has been an absolute joy to work with Lance and to see this project come to fruition based on his ability to instill energy and buy in from all of the people that are involved." – Talent Acquisition Director
Congratulations to Lance for this well-deserved recognition of his passion and hard work.