Careify Now Offers Two New Applications to Streamline the Workflow Process for Home and Community-Based Service Management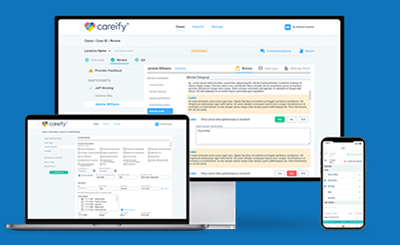 Public Consulting Group (PCG) is pleased to announce two new applications to the Careify suite, a cloud-based, all-in-one software solution that offers quality enhancement and oversight tools that improve service delivery for individuals receiving home and community-based care (HCBS).
Careify follows a human-centered design approach and focuses on streamlined workflows and a user-friendly experience. It combined the features of multiple applications that were previously used separately to create a convenient, all-in-one system with brand new applications. It accommodates management of different types of cases and provides a visually enhanced design.
Careify's software suite includes:
Electronic visit verification (EVV) - Careify EVV is a software-as-a-service (SaaS) application for provider agencies, managed care organizations, and state Medicaid agencies.It is used by caregivers or direct service professionals to verify that granted services have been provided. This is an important step, because the 21st Century Cures Act 1 requires that all home and community-based care billed through Medicaid or Medicare have EVV in order for providers to continue receiving funding.
(NEW) An incident management system (IMS) - Careify IMS is a modular application that leverages Centers for Medicare and Medicaid Services (CMS) recommendations on promising practices for incident management to protect the health and safety of those receiving care.
(NEW) Quality reviews (QR) - Careify QR is a modular application that leverages a workflow-based approach to performing various types of quality and compliance reviews and assessments. Our configurable framework allows for custom implementations to meet program and people needs. The focus of these reviews is to deliver program integrity and long-term compliance to produce quality outcomes for Medicaid-funded HCBS programs.


With Careify, agencies can manage the programs in one cost-effective, cloud-based location with a unified code base. This is particularly important during the COVID-19 pandemic when most HCBS program administration is taking place in a remote environment.
Find out how Careify can streamline your workflow process for HCBS management. Contact us today!
(800) 210-6113  | info@pcgus.com | https://careify.com/
_____________________
1 114th United States Congress, "21st Century Cures Act - Public Law 114–255," Congress.gov, December 13, 2016, accessed on February 3, 2021, https://www.congress.gov/114/plaws/publ255/PLAW-114publ255.pdf